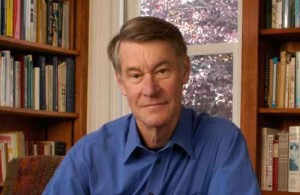 Robert W. Fuller earned his Ph.D. in physics at Princeton University and taught at Columbia, where he co-authored Mathematics of Classical and Quantum Physics. After serving as president of Oberlin College, he became a citizen diplomat and set about improving international relations during the Cold War. During the 1990s, he served as board chair of the nonprofit global corporation Internews, promoting democracy via free and independent media.
After the Cold War ended with the collapse of the USSR, Fuller reflected on his career and realized that he had been, at different times in his life, a somebody and a nobody. His periodic sojourns into "Nobodyland" led him to identify rankism—abuse of the power inherent in rank—and ultimately to write Somebodies and Nobodies: Overcoming the Abuse of Rank. Three years later, he published a sequel that focuses on building a "dignitarian society" titled All Rise: Somebodies, Nobodies, and the Politics of Dignity. With co-author Pamela Gerloff, he has also published Dignity for All: How to Create a World Without Rankism. His most recent books are Religion and Science: A Beautiful Friendship?, Genomes, Menomes, Wenomes: Neuroscience and Human Dignity, Belonging: A Memoir, The Wisdom of Science; The Theory of Everybody; and The Rowan Tree: A Novel.
As a recognized authority on dignity and rankism, Fuller's ideas and books have been widely covered in the media, including The New York Times, National Public Radio, C-SPAN, The Boston Globe, the BBC, Voice of America, and O, The Oprah Magazine.
Download the full version of Robert W. Fuller's Press Kit here.
Download the short version of the Press Kit here.
Robert W. Fuller's speaking engagements are filled with practical insights on how to eliminate abuses of rank and build high-performing organizations that protect human dignity. He has spoken at universities, companies, and non-profits around the world, including:
National Conference on Dignity for All, Dhaka, Bangladesh
Sino-U.S. Colloquium on Core Values, Washington, D.C.
World Academy of Arts and Sciences
TEDx, Berkeley, CA
Center for Therapeutic Justice, Williamsburg, VA
National Association of Graduate-Professional Students (Keynote Speaker)
Haas Institute for a Fair and Inclusive Society, Berkeley, CA
Royal Melbourne Institute of Technology, Australia
Maison des Sciences de l'Homme, Paris
Institute for Social and Economic Change, Bangalore, India
Microsoft Corporation, Redmond, WA
National Center for Institutional Diversity, Ann Arbor, Michigan
National Headquarters of the United Methodist Church, Washington, D.C.
Harvard, Stanford, Yale, and Princeton Universities
PRAISE FOR ROBERT W. FULLER'S BOOKS
"Rankism must be our prime target from now on in. Viva Fuller!"
—– Studs Terkel, Pulitzer Prize-winning author of Working
"If only all the problems in the world were just about money, or land, or religion, or racism. But in fact, they're about power. All of these things are just excuses for the ugly tendency of those in power to abuse those without it. Worse, power often seduces the powerless as much as it corrupts the powerful. Robert Fuller exposes these ugly dynamics – and in exposing them, helps to make them easier to overturn."
—– Esther Dyson, Internet guru, Editor Release 1.0
"Watch for a dignitarian movement against rankism that, like the civil rights and women's movements, will transform American life – in the boardroom, the schoolroom, the bedroom and, a lot sooner than we might think, at the ballot box."
—– Jerry Greenfield, co-founder of Ben and Jerry's Ice Cream and trustee of Ben and Jerry's Foundation
"The quest for recognition, especially by those who lack status, has long been seen as one of the driving forces of human history. Somebodies and Nobodies explains how recognition, or its absence, affects your life, and what we can all do to make sure that we treat each other with the dignity we each deserve."
—– Francis Fukuyama, Senior Fellow at Stanford University's Institute for International Studies and Author of The End of History
"Fuller gives us the essential tools to fight abuses of rank and to build high-performing institutions and organizations based on respect."
—– Wes Boyd, Co-founder of MoveOn.org
"All Rise give us a clear mandate for transforming our society into a true democracy."
—–Rosalind Wiseman, author of Queen Bees and Wannabes
"This handbook [Dignity for All] brings an exciting new voice to social science and to the public as well. I believe that these ideas are destined to play an important role in our century."
—–Thomas J. Scheff, Professor Emeritus of Sociology, UC-Santa Barbara
Memoir Project: Calvin S. Fuller, Father of Robert W. Fuller

The Making of a Scientist is Calvin Fuller's story of his youth, education, and scientific career in the greatest research laboratory of the postwar era. When, after his death, his sons discovered their father's memoir among his papers, they decided to share its rich cultural history of early 20th-century Chicago and its documentation of the creation of the solar cell at Bell Telephone Laboratories.Dr. Fuller's achievement is all the more remarkable because he grew up in a family beset with financial instability. The Making of a Scientist is, above all, an inspiring story of making it in America.