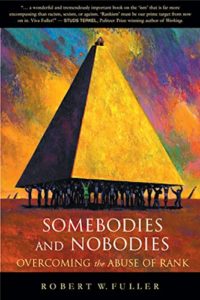 When discrimination is race-based, we call it racism; when it's gender-based, we call it sexism. Somebodies and Nobodies introduces rank-based discrimination—or "rankism"—a form of injustice that everyone knows, but no one sees. It explains our reluctance to confront rankism, shows where analyses based on identity fall short and, using dozens of examples, traces many forms of injustice and unfairness to rankism.
". . . a wonderful and tremendously important book on the 'ism' that is far more encompassing than racism, sexism or ageism. 'Rankism' must be our prime target from now on in. Viva Fuller!"—Studs Terkel, Pulitzer Prize-winning author of Working
Robert Fuller served as president of Oberlin College and subsequently worked internationally as a "citizen diplomat." He lives in Berkeley, California.
Available from: